Todays guest post was written by Kate from
A Girls Guide to Gluten-Free Baking
.
In 2005 after weeks of bellyache, sickness, being so tired I couldn't have made my bed if you paid me and abnormal toilet habits (that's putting it as delicately as I can) I finally went to the doctors, who diagnosed Coeliac Disease.
Coeliac Disease for those not in the know is an autoimmune disease, which is triggered by gluten. When a sufferer of Coeliac's eats gluten their body goes on to have an autoimmune response, which basically means it attacks itself, specifically in the small bowel. The only treatment for Coeliac's is a diet free from gluten. It's believed 1 in 100 people in the UK have Coeliac's and a lot of people are going undiagnosed or being misdiagnosed with conditions such as IBS. Six years on from my diagnosis things are going well, unless I eat gluten by accident I live a life free of symptoms, but I'd be lying if I said it wasn't a total ball ache at times. But the pros far outweigh the cons.
A gluten-free diet has become popular recently with those who aren't Coeliac due to the health benefits' cutting out the big G is supposed to have.
• Weight loss. A gluten-free diet is generally lower in saturated fats and carbohydrates.
• Bloating. Cutting down on gluten is thought to aid digestion and help with bloating and dare I say it, reduces trumping! Reducing gluten could also help in some cases of IBS and IBD.
• Cholesterol. Due to a reduction is saturated fats, its believed giving up gluten-free can lower cholesterol and improve heart health.
• It's been suggested that a gluten-free diet can help with various illnesses including autism and thyroid problems, skin problems such as psoriasis and joint problems such as arthritis.
• Bye bye headaches. Studies into the link between gluten and migraines found that sufferers reported a significant reduction in migraines whilst on a gluten-free diet.
Gluten-Free and Reduced Fat New York Cheesecake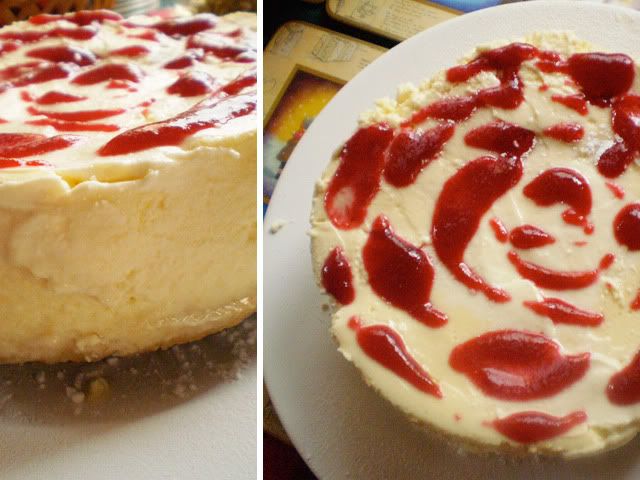 Its hard to get a LOW fat cheesecake but this one its reduced fat and a bit on the healthier side than a regular cheesecake. Serves 8-10.
Ingredients
• 150g digestives (gluten-free if your Coeliac)
• 70g low fat spread/margarine
• 500g
quark
• 250g low fat cream cheese
• 110g caster sugar
• Juice and zest of 1 lemon
• 1 whole egg, and 1 egg white
• 1 tsp vanilla extract
Extras
• 20cm spring form cake tin
• Baking parchment
Method
• Pop your oven on cool at gas mark 3. Grease and line your cake tin and leave to one side.
• Melt the spread and pour into a bowl. Work those guns and crush the biscuits to bits and add to the spread and mix together.
• Press the mixture into the base of the tin and pop in the fridge for 15-20minutes.
• Pile the quark, sugar, cream cheese and the lemon juice and zest into a big bowl and whizz it all up with an electric whisk. Beat it all together until smooth and then throw in the whole egg.
• In a super clean bowl whisk the egg white until you can hold the bowl over your head and the egg doesn't fall out on your face. Spoon the egg into the quark mix.
• Spoon the mixture over the biscuit base and bake in the oven for around 40minutes. Don't worry if its still got a bit of a wobble (we've all been there!) it will firm up as it cools down. It'll probably have some cracks in it as it cools, don't panic, all good cheesecakes crack!
• Once it's cooled down, pop in the fridge for an hour before you serve.
Fancy a low fat topping? Try these…
• Chop up some fresh fruit and sprinkle over the top.
• For a quick coulis pop a few handfuls of raspberries in a pan with a spoonful of sugar. Simmer over a low heat for around 5-10minutes until the sugar has dissolved and the fruit has softened.
• Grate some dark choccy over the top of the cheesecake.
-------------------------------------
We are always looking for new guest bloggers. If you're interested in writing a post for Where Are my Knees? please send us an email with a rough idea of what you'd like to write to
wherearemyknees@gmail.com
.