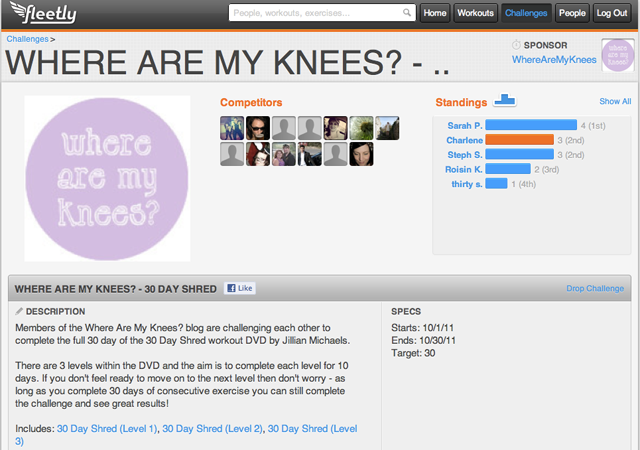 We're now onto Day 5 of our
30 Day Shred challenge
- 16% complete! There were a few kinks to start with, but I think we've figured it out all out now and so far quite a few people have joined the challenge and started logging their workouts! If you missed our previous post on Fleetly and the Where Are My Knees? Fleetly challenge then you can
click here
to read it.
There was a bit of confusion over how to actually log the workouts, so I thought I'd put together a little guide of how it works. It's quite simple to use, I think the issues were simply because when I set it up I wasn't 100% sure how it was going to work until we started logging our exercises but Samer, one of the helpful staff members at Fleetly, has sorted everything out for us - thanks!
001.
Sign up at
Fleetly
(you can simply link it to your Facebook in one click or create a stand alone login) and follow
this link
to the Where Are My Knees? Challenge. You can then click to join the challenge. A lot of us are friends over there so feel free to add us (you can see everyone taking part under 'competitors') as friends to liven up your timeline a little.
002.
We've created 3 different work outs for the 30 Day Shred - Level 1, 2 and 3 - which you can see linked in blue in the image above. It's recommended to do each level for 10 days but there's no pressure to move up a level if you're not ready. All you need to do is click the workout for the level you've completed that day and the page you're directed to will have a bright orange 'log' button.
003.
Next, select the date you wan't to log the exercise on, this is great if you can't get online one day - you can always backdate your exercises, and then select 'start logging'. You will see 'add' buttons next to the individual exercises, click these (you can fill in more detailed information such as how many reps you completed if you're aiming to gain points for your timeline but this won't affect the challenge) and then click the 'done' button at the top and you should see your points in the standings increase!
I hope that helps everyone! If you've got any more questions or suggestions on future Fleetly challenges then please let us know!
We'd also love to hear how you're getting on with the challenge so far! Have you stuck to it, or have you been naughty and skipped a day already? Personally my legs are BURNING! This usually passes by day 6 or 7 though so I'm going to push through it!