6 minute work out books: £1.49 each | healthy cook books: £1.99 each | gym bag: £4.99
fitness top/shorts: £4.99 each | ab gym belt: £11.99 | mp3 player: £8.99 | fitness trainers: £9.99
If we told you that these ridiculously well priced fitness products can all be purchased from Aldi, would you believe us? A few days ago we would have been shocked too, but as part of their Specials promotion Aldi will be selling all these products and more.
We compared the prices to those from fitness shops and we're shocked at the difference, particularly with the ab gym belt which can usually be bought from £30 upwards. Their 6 piece ankle and wrist weight set (not pictured) is also fantastic value at £9.99 when compared with a well known retailer who offers just 2 weights for the same price. Not only that, but they're great quality for the price too. Aldi have kindly sent us some samples and we are impressed!
Gemma
- I really do like these shorts but I'm not brave enough to wear them in public. I always wear trousers and a long sleeve top to the gym. I have worn them in the house for the 30 Day Shred and on my cross trainer and found them very comfortable and a lot less heavy than my heavy jersey material trousers that I normally wear. I liked the high waist on them which meant that I didn't need to pull them up and my stomach didn't show when I was reaching up and stretching. The back pocket is handy for your gym pass and locker key and I like the hint of pink running down the side of the shorts. I am a size 16-18 and they fit perfectly, a lot of work out clothing only really goes up to a Large or size 14.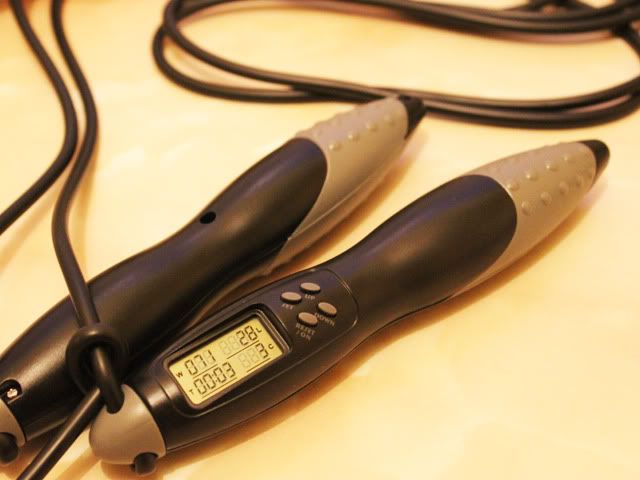 Charlene
- I received the skipping ropes which I was surprised to find are digital. You can input your weight, set a work out time and alarm and it will track how many skips you do and even how many calories you've burned. Skipping is a great form of exercise and sources say that ten minutes of jumping rope is roughly the equivalent of running an eight-minute mile and 15-20 minutes is apparently enough to burn off a chocolate bar! I think these are great value at £3.99 and being able to see how many calories you've burned is really motivational!
Sarah & Sarah -
We both received the pink tshirt. It's a great colour, but more importantly it's breathable and the hydrophylic finish is designed to take moisture away from the skin - minimising that sweaty, gross feeling you get after exercising! It's great value at £4.99 and has definitely made its way into our gym bags.
What do you think of the range? These products have been on-sale in Aldi since Thursday 5th January and are only available whilst stocks last so we recommend you get yourself down to your nearest Aldi store asap!