Now, I don't know about anyone else but one of my favourite summertime deserts is strawberries with lashings of cream and unfortunately, I know as well as the next person, how calorific cream is but
Jo
left a comment on
Sarah's Slimming World post
informing us an alternative which is just as good, perhaps even better than regular cream. I tried out this idea last night and I'm currently tucking into another bowl of strawberries and "cream" right now, and LOOK HOW TASTY THEY BOTH LOOKED: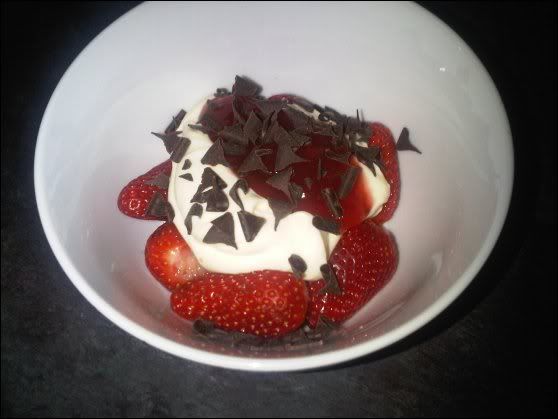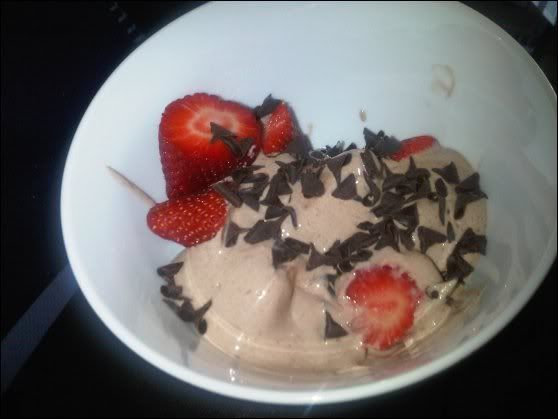 The first picture is strawberries, greek yoghurt mixed with a splash of vanilla essence and mixed with Options white hot chocolate powder topped with strawberry compote (from
one of these yoghurts
- more on those in a future post!) and finished with a sprinkling of plain chocolate shavings.
The second is essentially the same but this time I mixed in a regular milk chocolate Options hot chocolate powder and vanilla essence. So good! There's a load of other flavours of Options hot chocolate available too so it's worth trying other flavours to see what happens, plus it makes use of all the powder I currently have in my cupboards seeing as though this recent weather isn't making me want hot drinks!
It's such a good idea and it definitely satisfies that chocolate craving that I tend to get all the time! Obviously the plain chocolate shavings aren't that good but plain chocolate is better than milk, right?!