Today's guest blog was written by Jen from
Jen's Thoughts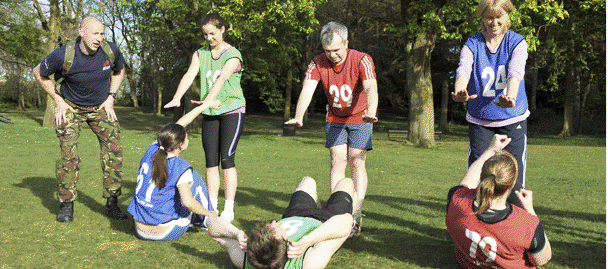 source: britmillfit.com
I've always enjoyed exercise (although my unused gym membership last year would say otherwise) and so when I found out about British Military Fitness (BMF) I was intrigued. Luckily two of my friends were also up for trying out a new way to keep fit and so I wasn't on my own when I turned up at my local park one evening for a taster session. Donning our blue bibs (the beginners colour),we were encouraged by one of the instructors to give the class our best efforts before starting with a not-too-strenuous warm up. There were moments, as we staggered to the nearest tree ( a popular command is to touch a certain number of trees, obviously this isn't that difficult when in a park!), when I wondered what I had got myself into but we all left the class feeling pleased with ourselves and ready for more.
The company's website says: "BMF is the largest and longest running provider of outdoor fitness classes in the UK". Each hour long session varies however it's typically a mixture of strengthening exercises (think of a legs, bums and tums class outside!) broken up with lots of running. If the thought of this leaves you feeling a little apprehensive then rest assured you won't be forced to sprint your way through your first session. The different levels mean you can choose a pace that suits you and your goals. The instructors, who all have army experience, aim to keep each class fun and so don't be surprised if you suddenly feel like you're back at a school PE lesson (a recent session had us giving each other piggy backs and one night even involved glow sticks).
Seven months later and I've progressed to reds (intermediate) and have even dabbled in the advanced class (okay just the once before promptly realising it wasn't for me!). I've definitely seen a massive increase in my fitness and I'm positive it made a big difference when it came to running my first half marathon a couple of weeks ago. I can't claim to have lost weight through signing up however that's more down to my love of cake as opposed to the effectiveness of a class! I guess you could say it's stopped me from looking quite as a big as I should given my daily calorie intake and, as I've said, I certainly feel a lot fitter.
I understand that BMF can sound a little hard core but don't let this put you off. Yes, you will get muddy and possibly yelled at (in a motivational way!) but that's all part of the fun. BMF membership isn't limited to the super fit and you're bound to find some fellow beginners whenever you start. Forget intimidating gyms and lonely morning jogs, there is such a supportive atmosphere at classes and it's great to be surrounded by other people, especially when the weather isn't at its most inspiring. Plus the fact that winter sessions are likely to be in the dark brings the added bonus of not being quite as 'on show' as you would be in a brightly lit aerobics class!
Of course it's never easy to keep up a new exercise regime. I'm no longer accompanied each week by my friends and so exercise isn't really the social occasion it once was (there's nothing like discussing what you're having for dinner that night as you cool down after a challenging class). There are also weeks when I really can't face venturing out after a long day at work however I usually end up feeling so much better after a class that it's worth the effort.
BMF has been just what I needed to kick start a desire to keep fit. I love the 'adventure' element of it and would much rather exercise outside than plod along on a treadmill. Some people I know are under the (mistaken) impression that I'm some kind of fitness freak and find my tales of press ups in the park quite impressive however I don't think they realise how much more motivation a trip to the gym would require of me. With BMF all I need to do is turn up and follow instructions rather than worry about setting my own exercise programme.
If you're looking for a new way to exercise that's effective and doesn't leave you bored then I would definitely recommend BMF. It gives you a chance to really push yourself which is a brilliant confidence boost, particularly if you've feeling a bit low or unmotivated. Plus, once you've exercised outside in the snow any other workout will be a breeze!
For more information on British Military Fitness check out their website:
http://www.britmilfit.com/about-bmf/
-------------------------------------
We are always looking for new guest bloggers. If you're interested in writing a post for Where Are my Knees? please send us an email with a rough idea of what you'd like to write to
wherearemyknees@gmail.com
.