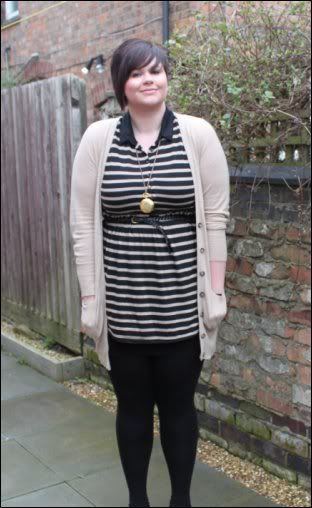 So, hello. My introduction. Can I first apologise about the silly picture of me, it's the best one I could find that I hadn't already used on my personal blog and I couldn't get a decent one of my newly dyed ginger hair! Excuses, excuses. Anyway, I don't really know what to put here, all I know is I want to lose weight to make me happier. I've been on and off various diets for SO long, I attempt healthy eating but it's never long before I cave in and eat chocolate and other bad (nice) things. I joined Slimming World for about 9 weeks last June and managed to lose almost a stone. Thing is, I don't even remember slipping off it - it just sort of happened! I still have all the books and information, so perhaps it's time to crack those out again.
My biggest problem is a lack of motivation, I need someone to tell me that I shouldn't buy that bar of Galaxy and eat it all in one sitting and I'm hoping this blog, and all you lovely readers (there are so many of you already!), will turn into that somebody - my guilty conscience. Just recently, moreso while I'm in uni for a ridiculous amount of hours, I find myself eating a bag of Haribo for lunch or just popping down to the vending machine and having myself a cheeky Wispa, but all this has to stop. I can't continue to blame being a stressed-out and under-pressure third year, especially because after May 4th it won't be a valid excuse anymore!
At the start of this year I began a food diary in which I wrote down everything that I ate, and although I only lost a few pounds (before gaining them again...), I found keeping a record really helped. It made me think more about what I was eating so at the start of this week I weighed myself and began keeping a record again. I'll be updating you all every Sunday with how my week has been and how much weight I've lost. Fingers crossed it'll be a little bit each week!
My main goal is to try and slim down ready for my five-week adventure in Australia in October. I mean, I'm not going to meet my dream surfer dude looking like this, am I?! But first, let's concentrate on trying to drop one dress size (or maybe two!) before my 21st Birthday which is on June 25th.
I'm not prepared to be the only one of us five who fails, so wish me luck and fingers crossed 2011 is MY year! :)